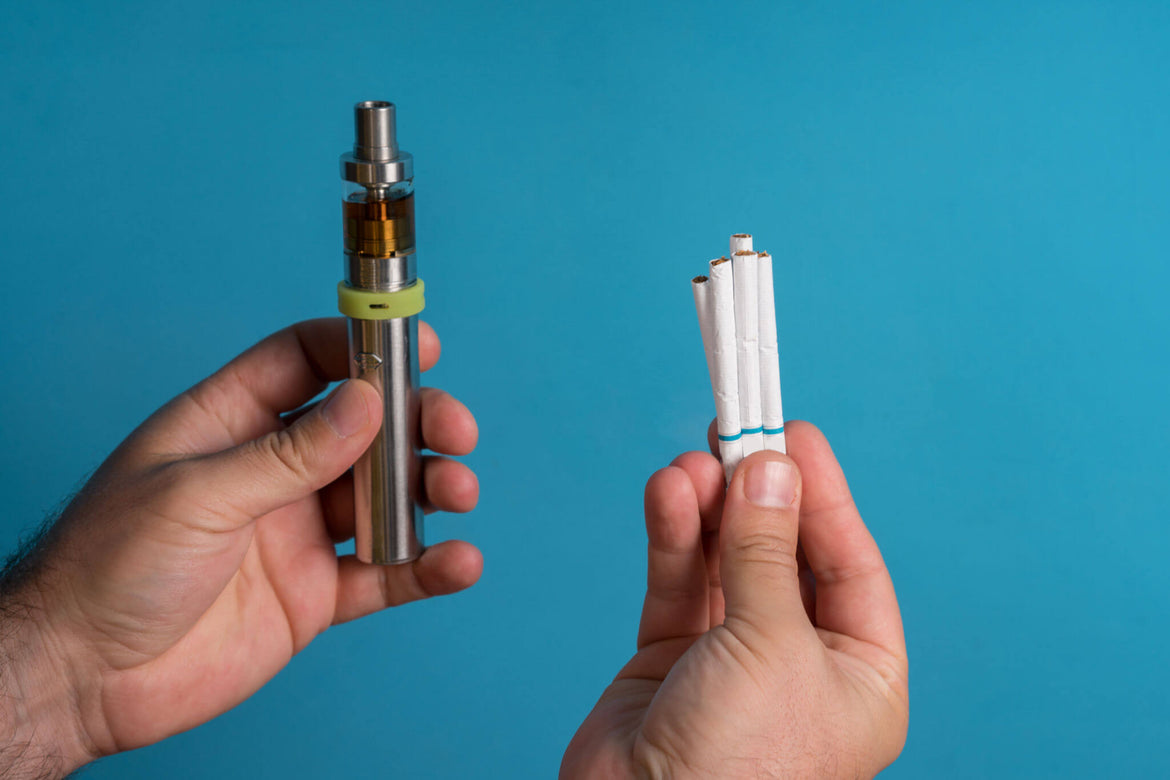 Does Switching to E-Cigarettes Make Your Body Any Healthier?
E-cigarettes get us out of the way of toxins and carcinogens that are often found in traditional cigarettes and similar products. We are not only talking about the components mixed with tobacco leaves (for example, tar, ammonia or carbon monoxide). The smoke itself resulting from the combustion necessary for smoking is one of the most harmful elements of cigarettes. It goes directly to your lungs, reducing your capacity, and causing a frequent choking sensation, especially when making any effort.
In contrast, e-cigarettes only heat the e-liquid and release the vapor. The essential components of vaping liquids are propylene glycol and vegetable glycerin. The only additives are usually flavorings and nicotine. This last substance can be found in different concentrations. However, you can avoid these by preferring liquids without nicotine, often used by those who want to eliminate addiction.
The e-cigarettes, including vaporizers, are now a custom that has spread very quickly during the past decade. These ingenious devices were a breakthrough for those who want to quit traditional smoking and those who still do. And, although it has become fashionable among many non-smokers, the main goal has always been to help them quit and keep them healthier.
If you are still smoking a cigar and interested in switching to e-cigarette, you should know the benefits. These benefits are really important to know, helping you quit smoking and keep healthier. Here, you will learn about the four key benefits to make the "switch" once and for all and start vaping.
More Safer than Smoking Traditional Cigarettes
E-cigarettes are 95% safer than smoking tobacco. There is an overwhelming majority in Pakistan who use e-cigarettes and vaporizers to quit smoking. Currently, Pakistan has no law addressing the use of e-cigarettes in indoor public places, workspaces, and public transport. So, it means the use of e-cigarettes is allowed, and the government is indirectly supporting e-cigarettes.
Ample evidence exists that e-cigarettes can help people quit smoking, with equal or better results than nicotine therapies such as patches. In the case of this type of medical treatment, it is best to accompany the change with comprehensive therapy. The reason is that a comprehensive therapy attacks every aspect of conventional cigarette use.
More Efficient to Quit Smoking
In 2019, the use of e-cigarettes, among associated devices, was clearly emerging as the highly effective alternative within smoking cessation therapies. So, this again validates what was mentioned in the previous point. By switching to e-cigarettes, your body will thank you, as well as those around you. It means switching to e-cigarettes make your body healthier, as you are away from severe diseases caused by tobacco smoking.
It is possible to reverse the amount of time it takes for your body to repair the effects of traditional smoking. The longer you go without smoking a cigarette, the better your health will be.
No More Odors in your Clothes, Hands or Home
One of the most common reasons for those who leave traditional cigarettes and switch to e-cigarettes is the tobacco smell. When you smoke cigarettes, the smell can linger on your hands, clothes, and hair for many hours after you have smoked. Even the setting where you smoked is affected, and non-smokers cannot stay here anymore. The e-cigarette is an excellent alternative to eliminate it forever since you will no longer suffer from the same problem.
Excellent for Socializing
Many cigar smokers have made it a social instance, such as going out to chat outside the office or at a domestic celebration. This little habit, which can escalate into a full-time one, is one of the strong barriers to traditional cigarette smoking. So, if you are starting out, it may be better to reconsider and switch to an e-cigarette. This way can fulfill the same role without involving any harm to your health.
You have learned how switching to e-cigarettes makes your body healthier. For more informative posts, you must visit our website. If you want to quit smoking and keep healthy, Elite Cigs & Vaporizers encourages you to use e-cigarettes. We are the leading vape store in Pakistan, and we aim to help you by offering high-quality products. Start using e-cigarette today and quit smoking!