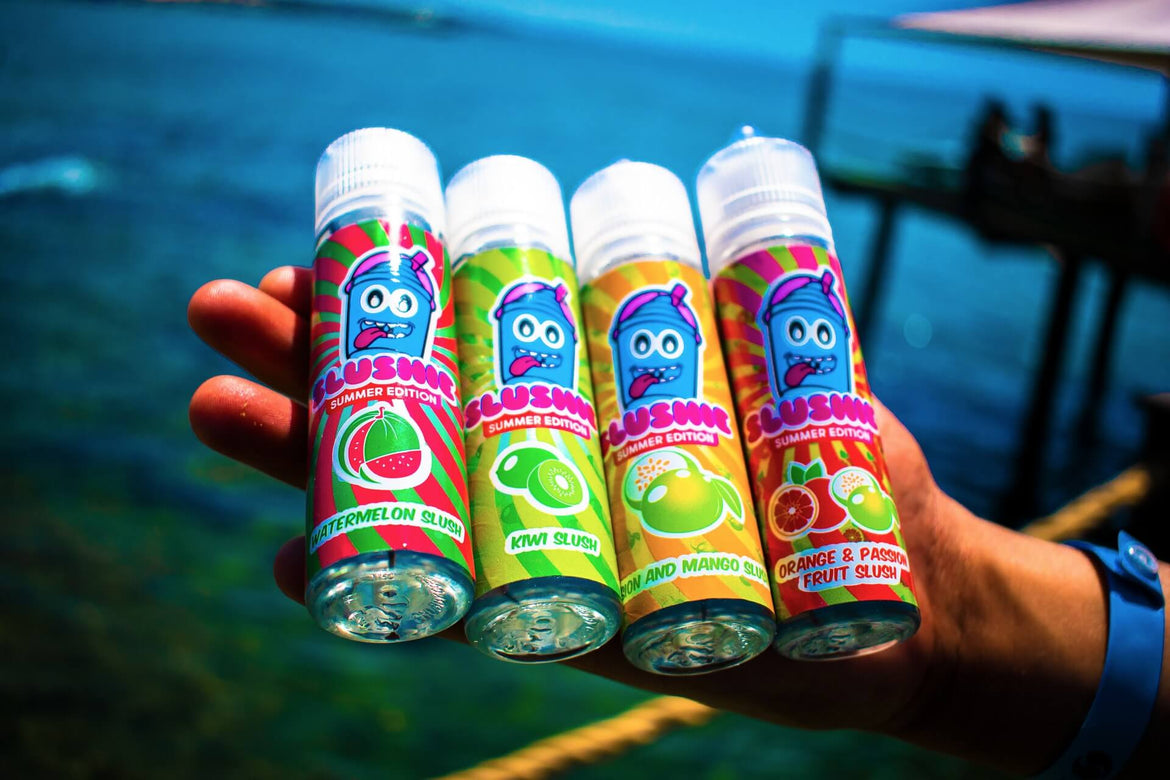 E-Lite Cigs' Top Picks From 7 E-Liquid Brands
Choosing flavors for your vape device is considered an art form by those who hold vape juices in high regard. Ultimately, it all comes down to the preference of the person. There are those who prefer fruity flavors for that sharp kick. There are also those who like dessert flavors to sate their sweet tooth. And then, there are those who go for tobacco flavors because they want to have the authentic experience of smoking a cigarette without all the harmful side effects.
Experts at E-Lite Cigs have curated a list of the best flavor from 7 popular e-juice brands. Let's take a look at these flavors and see why they are a must-try:
RIPE VAPES – APPLE FREEZ SALTZ (Salt Nicotine)
Ripe Vapes has put out truly brilliant flavors, but our curators have deemed the Apple Freez Saltz flavor the best of the lot. And for a good reason, because it has a cool menthol kick in it that accompanies the sharp flavor of candied apples. It is a salt nicotine flavor available in 30mg and 50mg variations for those looking for that strong hit of nicotine.
VG/PG Ratio: 50/50
BLVK UNICORN – FRZNBERRY (Freebase)
One of the most popular brands in Pakistan is BLVK. And there is a reason behind it. BLVK offer many different kinds of flavors that are universally loved for their rich and authentic tastes. Our pick for BLVK is Frznberry from their Unicorn line, which has a cool and breezy menthol kick that supplements the shock flavor of strawberries. It truly creates a unique and relaxing experience.
VG/PG Ratio: 70/30
CLOUD NINERS – HONEYDEW (Freebase)
Honeydew is a unique flavor that will remind you of chilling on the beach during a sunny day. It is cool sweet, and it has a smooth throat hit that will truly satisfy you. Plus, it produces very decent clouds too. That is why our curators have picked this as the best flavor that Cloud Niners have put out.
VG/PG Ratio: 70/30
CLOUD NURDS – STRAWBERRY LEMON ICED (Freebase)
Fruit flavors are universally loved. Even more so when they are simple and made of delicious fruits like strawberries, we think that the Strawberry Lemon Iced flavor is the best that Cloud Nurds have put out because it is a unique but delicious combination of sweet strawberries with some sharp, lemony, citrusy notes. And who can forget the cool throat feeling that the menthol in it gives you.
VG/PG Ratio: 70/30
BINJAI MINT SALT – PINACOLADA (Salt Nicotine)
'If you like pinacoladas…' is how the song goes, right? Well, in this case, you don't just have to hear a song, but you can actually experience it for yourself—the classic taste of pineapples mixed with coconut juice, all compressed in a bottle of e-liquid. Binjai's Mint Salt line has produced a true gem that you need to experience if you want to feel like you are lying on a sunny beach, enjoying the weather.
VG/PG Ratio: 50/50
LUSH ICE – VGOD (Freebase)
Vgod knows that everyone loves watermelon. It's sweet, it's light, and it's juicy. Keeping that in mind, they developed this flavor and added a sharp hit of menthol to it. And then they produced this beauty which will not only settle your sweet tooth but also cool you down in a great way. For this alone, our curators chose this Lush Ice flavor as the best of Vgod's lot.
VG/PG Ratio: 70/30
SKWEZED – PEACH ICE SALT (Salt Nicotine)
Who says that salt nicotine flavors can't be fun? If anything, this Peach Ice Salt flavor from Skwezed is proof that exactly the opposite is true. If you want to experience true fruity and sweet goodness with a nice and relaxing hit of menthol, then you will not go wrong with this flavor. It is rich in flavor, and you will want to enjoy it for as long as possible, which is why this is, in our opinion, the best flavor by Skwezed.
VG/PG Ratio: 50/50
Conclusion
These are our top picks for 7 popular brands that you should definitely have in your vape juice arsenal. E-Lite Cigs has all these juices and much more in stock from these same brands. We also have a whole collection of different kinds of vape devices such as starter kits, disposable vapes and much more. So, choose your favorite flavor or a vape device and buy today!