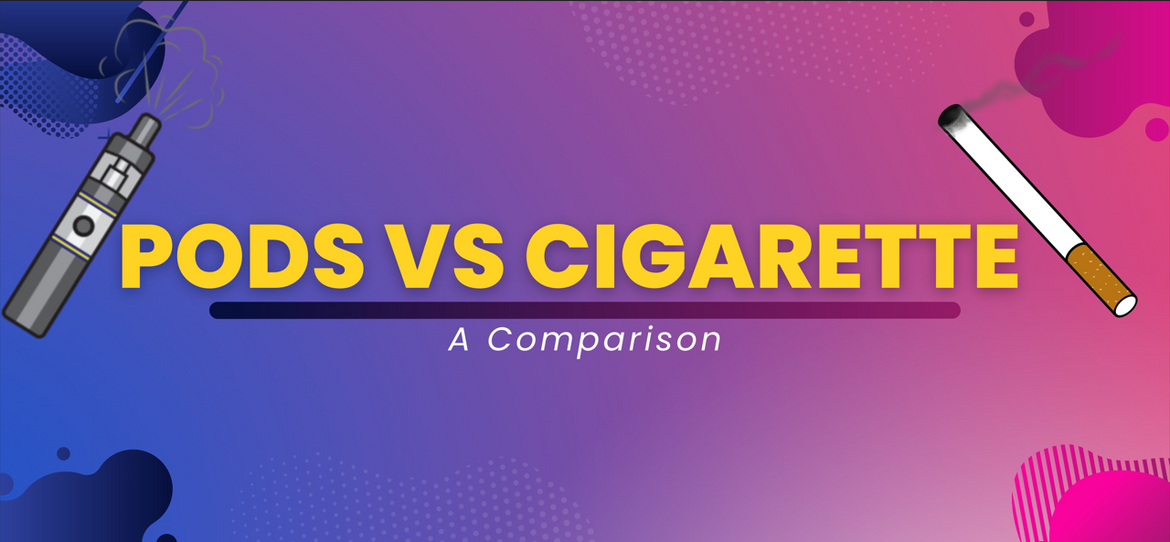 The Battle Between Vaping Pods and Cigarettes: A Comparison
Smoking is a dangerous and deadly habit that causes a wide range of health problems. According to the Centers for Disease Control and Prevention, smoking is the leading cause of preventable deaths in the United States. While quitting smoking is often easier said than done, the rise of vaping in recent years has offered a potential alternative for smokers. In this post, we will compare two popular options: vaping pods and cigarettes.
Cigarettes:
Harmful Chemicals and Addiction Cigarettes contain tobacco, which is burned to produce smoke that is inhaled into the lungs. The smoke from cigarettes contains a wide range of harmful chemicals, including tar, carbon monoxide, and nicotine. These chemicals can cause a variety of health problems, including lung cancer, heart disease, and respiratory issues. Additionally, cigarettes are highly addictive due to the nicotine content, which can make quitting incredibly difficult.
Research has shown that cigarette smoking increases the risk of developing many different types of cancer, as well as heart disease, stroke, and lung diseases such as emphysema and chronic bronchitis. Smoking also damages blood vessels, which can lead to atherosclerosis, a condition where plaque builds up in the arteries, increasing the risk of heart attack and stroke.
Vaping Pods:
A Less Harmful Alternative? Vaping pods are a type of e-cigarette that use a liquid called e-juice to produce vapor that is inhaled into the lungs. Unlike cigarettes, vaping pods do not burn anything, which means they do not produce smoke. Instead, they produce a vapor that is less harmful than cigarette smoke. Additionally, many vaping pods contain significantly less nicotine than cigarettes, which can make them a better option for people who are trying to quit smoking.
Research has shown that vaping pods are less harmful than cigarettes because they contain fewer toxic chemicals. The vapor produced by vaping pods typically contains fewer carcinogens and harmful chemicals than cigarette smoke. Vaping pods can also be a useful tool for smokers trying to quit, as they can be used to gradually reduce nicotine intake. Some studies have shown that vaping can be an effective smoking cessation aid, although more research is needed to fully understand its effectiveness and safety.
Risks of Vaping Pods While vaping pods may be less harmful than cigarettes, they are not without their own set of risks. The e-juice used in vaping pods can contain a variety of chemicals, including nicotine, propylene glycol, and flavorings. While these chemicals are generally considered to be less harmful than the chemicals found in cigarette smoke, they can still cause health problems if they are inhaled in large quantities. Additionally, vaping pods can be just as addictive as cigarettes, which means they may not be the best option for people who are trying to quit smoking altogether.
Other risks associated with vaping include the potential for lung damage, as some studies have linked vaping to lung injuries and other respiratory problems. Vaping can also be a gateway to smoking for young people, as studies have shown that teens who use e-cigarettes are more likely to start smoking traditional cigarettes.
Conclusion
In conclusion, smoking is a dangerous and deadly habit that should be avoided at all costs. While vaping pods may be a less harmful alternative to cigarettes, they are not completely safe and should not be considered a healthy option. Ultimately, the best option is to quit smoking altogether, but if you are struggling to quit, vaping pods may be worth considering. However, it is important to weigh the potential risks and benefits before making a decision. If you are concerned about your smoking habits, talk to your healthcare provider or a smoking cessation specialist for advice and support.