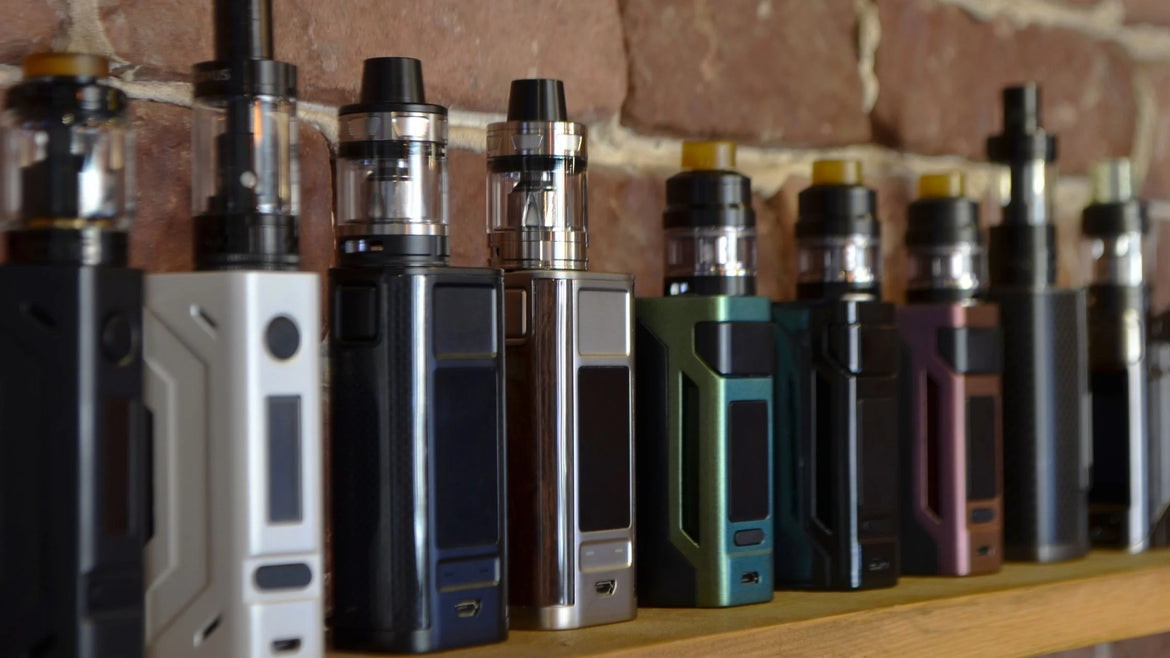 Top 10 Vape Products to Kick Off 2024: A Comprehensive Guide
As we step into 2024, the vaping industry continues to evolve. Many vapes are offering an array of cutting-edge designs to enhance your vaping. To help you navigate many vape options, we've conducted in-depth research to bring you the top 10 vapes. These products promise to set the tone for an exceptional vaping year. From sleek pod systems to powerful vape kits, these devices are for beginners and seasoned vapers.
Geekvape Wenax K2 Pod Kit:
Kicking off our list is the Geekvape Wenax K2 Pod Kit. This compact yet powerful device boasts a 1000mAh battery and a 2ml pod capacity. What sets it apart is its innovative airflow adjustment, allowing users to tailor their vaping experience. The hassle-free side-fill design ensures a spill-free refill, making it an excellent choice for vapers on the go.
VOOPOO VMATE E POD KIT:
The VOOPOO VMATE E Pod Kit combines style with a compact design. This pod kit has an appealing design and a powerful 1200mAh battery. The intelligent Gene Chip ensures rapid firing. On the other hand, the VMATE E pod comes with a 3ml pod capacity, meaning fewer refills. With adjustable wattage and a range of safety features, the VMATE E is a reliable companion.
Geekvape AU(Aegis U) Pod Kit:
Geekvape's Aegis series has gained a reputation for durability and rugged design. AU (Aegis U) Pod Kit is built to withstand the rigors of daily use. This pod system is water-resistant, dustproof, and shockproof. The Aegis U delivers robust flavor and vapor production with impressive coil technology. The Aegis U Pod Kit is a standout choice for those seeking a reliable and sturdy device.
UWELL CALIBURN 11W POD SYSTEM KIT:
UWELL has consistently delivered quality. The Uwell Caliburn 11W Pod Kit is no exception. It boasts a slim and pocket-friendly design. Caliburn features a 520mAh battery and 2ml pod capacity for seamless vaping sessions. The draw-activated mechanism eliminates the need for buttons, offering a smooth vaping experience. The Pro-FOCS Flavor Testing Technology ensures rich and satisfying flavor with every puff. Caliburn 11w pod kit is a compact choice for your 2024 in your vape collection.
UWELL CALIBURN AK2 POD SYSTEM KIT:
Another gem from UWELL the Caliburn AK2 Pod System Kit. Ak2 Pod Kit stands out with its 520mAh battery and 2ml pod capacity. The Pro-FOCS Flavor Testing Technology provides vapers with a flavorful experience. The ergonomic design and soft button layout make it a user-friendly choice for vapers.
Uwell Caliburn Tenet Koko Pod Kit:
UWELL continues to dominate our list with the Caliburn Tenet Koko Pod Kit. This device combines style with performance. It comes with a massive 950mAh battery and a 2ml pod capacity. The draw-activated mechanism and compact design make it an excellent choice for steady vaping. The Tenet Koko offers a satisfying vaping experience without compromising on style.
SMOK G-PRIV 4 VAPE KIT:
Enter the world of high-performance vaping with the SMOK G-PRIV 4 Vape Kit. This kit combines the G-PRIV 4 Mod with the TFV18 Tank, offering a powerhouse of features. With a massive 230W output, a vibrant touchscreen display, and dual 18650 batteries. G-PRIV 4 is tailored for enthusiasts who crave maximum vapor production and advanced customization.
UWELL CALIBURN KOKO PRIME:
The UWELL Caliburn Koko Prime is one of the best vape pod devices, which is compact yet powerful. This pod system has a 690mAh battery, a 2ml pod capacity, and a compact design that fits comfortably in your hand. The interchangeable decorative panels add a touch of personalization. You can customize your Koko Prime Pod as you love, making it a stylish choice for vapers.
Vaporesso XROS 3 Pod Kit:
Vaporesso enters our list with the XROS 3 Pod Kit, an epitome of simplicity and functionality. With an adjustable airflow system and a 1000mAh battery, this kit offers versatility and longevity. The 2ml pod capacity and top-filling design make it convenient. At the same time, the customizable power output allows users to fine-tune their vaping experience.
VOOPOO V.THRU PRO 25W POD KIT:
Closing our list is the VOOPOO V.THRU PRO 25W Pod Kit, a compact and powerful device. The 900mAh battery ensures a long vaping session so you can enjoy your vape for a more extended period. While the 3ml pod capacity minimizes the fuss of constant refills. The GENE Chip provides swift and precise performance. Adjustable wattage allows users to find the perfect balance between flavor and vapor.
Conclusion:
2024 promises an exciting evolution in the vaping landscape, with cutting-edge vapes. The guide features the top 10 vape products, including the compact Geekvape Wenax K2 Pod Kit and high-performance SMOK G-PRIV 4 Vape Kit, catering to a diverse range of preferences. Whether you prioritize durability, style, or functionality. These vape devices offer a compelling blend of features to ensure a satisfying and personalized vaping experience.
In the ever-expanding world of vaping, these top 10 choices serve as a roadmap for enthusiasts. This list of vapes is specifically for those seeking reliability, style, and performance. These devices are meant to make a lasting impact for an exceptional year.