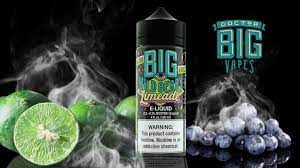 Why Do Vapers Love Nasty Juice E-Liquids?
Malayasia has proved themselves to be the best producers of e-liquids, with the introduction of their new line of Nasty Juice. The Nasty Juice comapny has managed to gather fame from all over the world with their exotic and fruity e-liquid flavors. The flavors are one thing, but they have also managed to excel in the packaging department. The uinque tinware packaging earns all kinds of points, as it is not only trendy but also functional. The large bottles come in aluminum dripper bottles or chubby gorilla bottles, which keep the e-liquid in prime condition even after they have been opened.
History Behind Nasty Juice
The company came to life in July 2015 and soon released their first line of products in December of the same year. The year following that, Nasty Juice went global and started supplying products in the UK and European markets. Nasty Juice has managed to gain quite a lot of popularity around the world in recent years, which has led them to win multiple awards in the international market. 
You can now easily find Nasty Juice in Pakistan at Elite Cigs. We have a vast range of their e-liquids in-store and online. So grab your favorite flavor now.
Why Should You Try Nasty Juice E-Liquids
They may have nasty in the name, but they aren't nasty at all in terms of taste. You will be genuinely surprised by the complexity and deliciousness of their flavors. The few things you never thought would go well together taste so good that you will be amazed. Once you try the Nasty Juice E-Liquid, you will learn that they are full of exciting flavors that burst into your mouth when you vape them.
Here are a few e-liquid flavors that are loved by vapers worldwide.
Silver Blend Nasty Tobacco
This flavor is specially made for ex-smokers who enjoy the flavor of tobacco as much as they enjoy the sweet vanilla custard. Nasty Juice created this nicotine salt e-liquid that will surely capture you senses and provide you with a burst of flavor that you will surely remember.
It contain a 50/50 VG to PG ratio, giving you the perfect balance between cloud and flavor. You can find this e-liquid at Elite Cigs in 35mg and 50mg nicotine level. We suggest you use it in a vape mod system, rather than sub-ohm resistance pods.
This is is very unique tobacco flavor that is perfect for people who love a good cigar. The blend of mild tobacco and sweet creaminess makes this an ideal flavor for ex-smokers. The tobacco has a nutty undertone to it, which makes the smokiness extremely pleasant.
So be sure sure to give this flavor a try if you love a gigantic cloud, as this blend comes with a 70/30 VG to PG ratio. You can get Gold Blend Nasty Tobacco in-stores and online from Elite Cigs.   
You can now get the taste of real blackcurrant gummy candies with the Bad Blood Nasty Juice. It also contains hints of mint, which will give a cool refreshing feeling without overpowering your tastebuds. The 70/30 VG to PG ratio ensures that you have an enormous fruity and minty cloud with each hit.
You can purchase this flavor from Elite Cigs in 3mg and 6mg nicotine levels. This is the perfect e-liquid if you are a beginner and want to avoid harsh nicotine hits.
If you love flavored lemonade, get ready to love this flavor. A perfect blend of blackcurrant, mint, and lemonade allows you to experience e-liquids like you have never before. The lemonade is almost fizzy. With every puff, you will notice bubbles dancing across your tounge, giving an amazing heavenly feel. All the elements are perfectly layered together to make sure that one doesn't overwhelm the other.
Similar to Bad Blood, Wicked Haze also comes with a 70/30 VG to PG ratio, creating long-lasting, enuormous clouds. Elite Cigs have this flavor available in 0mg, 3mg, and 6mg nicotine levels. So go get your bottle now.
With this comprehensive guide to some of the best flavors by Nasty Juice, you will have no trouble finding one that is best suited for you. So get your Nasty Juice e-liquid bottle now from Elite Cigs.